Many Paths... One Goal-Success.
Bhashyam Educational Group has been tremendously successful in the field of education, because it has not waited for things to happen, but has created opportunities instead of waiting for it to knock.
This proactive approach has resulted in creating many vistas for learning and setting up different verticals in the field of education to suit the varying needs of the students. In over two decades of its existence, it has delivered to the society a steady and healthy band of successful youngsters who have made a mark in their respective career charts. Bhashyam has grown tall and spread far and wide at a decent pace mainly because parents and students responded.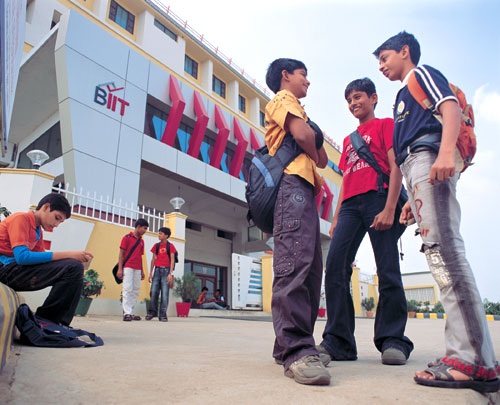 Some are Studying...
Some are Learning.
Bhashyam right from the inception year is known for its innovative integrated Foundation Programmes from VI to X class, which has empowered thousands of students to be successful to step into IITs, NITs, BITS, AFMC, JIPMER and so on.
Bhashyam IIT (BIIT) Foundation Academy comprehensive 5-year Integrated Foundation Programme from classes VI to X is considered one of the best for the talented aspirants aiming for national level engineering and medical institutions right from the schooling. Senior IIT and Medical coaching faculty have designed this futuristic course following the National Curriculum (CBSE and ICSE) and State Board syllabus. This advanced integrated programme makes the students strong in fundamentals as well as hone their analytical and logical skills, thereby, ensuring their success in facing all challenges in the academic field.
The Group is Spreading Slowly but Steadily.
Bhashyam has established day and residential schools to meet the demands of the parents to provide quality learning to their children. The course schedule followed is uniform and the standards are equally good, no matter which branch the students join.
Bhashyam has several firsts to its credit, not only in bringing the new trends in education, but also in creating world-class residential schools that stand as a re_ection of its commitment and philosophy. The group has separate residential campuses for boys and girls at Guntur, Hyderabad, Vizag and Tirupati. These residential campuses are scientifically planned, artistically designed and precisely constructed to groom the global citizens. Students joining the course will have the freedom to relish their childhood to the fullest as well as enjoy learning. Appealing landscapes, aesthetic architecture, and the tranquil ambience make it a great place to pursue education.





Bhashyam
Bhashyam School offers a futuristic education, which unites an excellent academic preparation with development of character and confidence. The school's approach teaches the students to learn about themselves and how steadfastness and happiness in this ever-changing competitive world may be discovered. The sole aim is to allow students to grow gracefully into holistic and self-reliant individuals, achieving at the academic level more than they think is possible.
Bhashyam Little Champs Winner all the way
Bhashyam Little Champs aims to create a safe, secure and sustainable learning environment, where children feel valued and happy. Children are encouraged, praised and taught to be responsible and take active interest in their community. A wide variety of academic programmes are offered for the children to absorb knowledge, gain experience and have fun across all activities. Bhashyam Little Champs believes in learning, developing and achieving together, while celebrating diversity thus ensuring equal opportunities to explore and excel.
BIIT Bhashyam's IIT-JEE Academy
Bhashyam IIT Academy is the outcome of intensive study and research of the current education scene in our country. The aim is to provide a focused and course-specific approach to all those who aspire to join reputed Engineering Colleges in the country. The foundation is laid from the day the students step into class VI. The two-pronged learning structure that delves on the academic progress upto class XII thus, strengthening the chances of success while paying rich dividends in the form of knowledge acquired that is a lifelong asset.
Bhashyam Medex Bhashyam's Medical Excellence Programme
Career plans do not happen overnight. A steady and gradual approach from the senior schooling level ensures that success comes your way. MEDEX is a newly introduced Integrated Medical Foundation Course that has been blended with the regular curriculum so that students find it easy to comprehend as well as get ready for the competition that is getting tougher by the day. There are limited number of seats and an increasing number of aspirants. It, therefore, makes sense to be well prepared and be ensured of success.