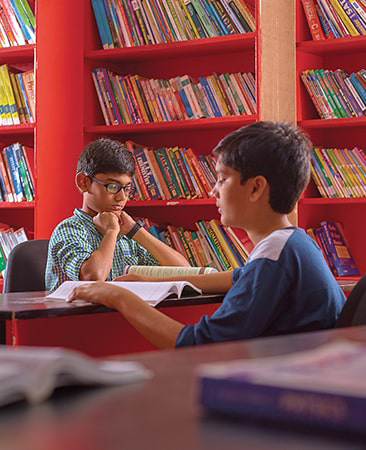 Learning Resources
Commitment is from within.
Energy is out sourced.
Bhashyam has been a step ahead in encouraging ideas and talent to glow with radiance year after year in the various competitive examinations. It believes that rules (results) are made to be broken and improved upon. Bhashyamites draw their energy (skills and ideas) from the primary source - the institution and spread the radiance across the globe. Success is not measured but assured at Bhashyam.
Completely Engrossed.
The Unique Primary Year Programme at Little Champs provides the right foundation for students to take on the systematic education pattern in the higher classes.
Colourful primary classrooms provide the right environment to captivate the child and stimulate learning. Using scientifically approved teaching methods, the specially trained teachers in the school bring to the fore the hidden talents of the children, by closely monitoring child's needs and areas of interest. The teachers with lot of patience nurture creative thinking, decision making and problem solving abilities in the students. Throughout the primary tenure, students are engaged in open-ended, relevant, student-centered activities and projects, which build self-learning abilities in the children.
Transforming Knowledge into Answers.
To make each student academically sound, teachers conduct weekly, fortnightly and monthly tests and their performance is recorded from time to time. While the exceptionally talented are given special encouragement, slow learners are given additional care.
Individual attention is a byword at Bhashyam. The day scholars and boarders at Bhashyam, have the distinct advantage of extended study hours after the regular school hours. Students congregate to recapitulate whatever has been taught during the day in the presence of the teachers. This helps in clearing their doubts if any, and revising the topic. Senior teachers along with the qualified support staff utilise this time to bring slow learners to the main stream. Students who need special attention are formed into small groups and a teacher is assigned during extended study hours. Teachers constantly apprise the parents of their wards progress and seek their help in addressing grey areas from time to time.