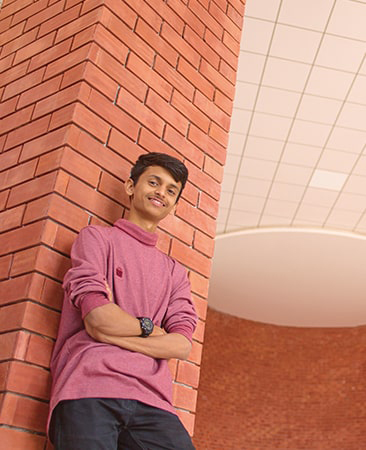 A Splash of Culture and a Bounty of Civilisation.
There is never a dull moment at Bhashyam. To make students relish every moment of schooling life, it celebrates all major festivals of different religions with full fervour in the campus. Student's birthdays are also celebrated with pomp and gaiety.
Bhashyam is a miniature of the world at large. The environment here facilitates community living, where individuals from different social and cultural backgrounds live and learn together. Students are actively involved in several planned activities like campfire and weekend refreshing events. It has also designed a mammoth open-air theatre with modern audio-visual equipment. Students are shown the latest movies and interesting documentaries. This mammoth amphitheatre is also the venue for music, plays, annual cultural and literary fests, felicitations, parents meet and celebrations of various festivals and occasions of national importance.
The 'Key' to the Future
Bhashyam believes in exposing the students to information technology and applications from early stages of primary education that can be useful in their future endeavours.
Information and Communication Technology (ICT) has become an integral part of our daily life. Bhashyam Group has reacted to the change positively and has established
ICT labs that have the latest hardware and software with Internet connectivity. Professionals assist the students to browse the Internet in a filtered way to gather information related to their projects and ever-changing technology. The ICT programme implemented here triggers the communication and research skills of the student. It also gives them an insight to use technology as a tool to effectively present their ideas and findings both in and out of the classroom.
Get Hooked to a Book.
To provide enough recourse for self-learning, BIIT academy has library with a vast collection of books, study material, question banks and reference materials.
To substantiate theoretical expressions and also to provide interactive training, Bhashyam has also established labs for Physics, Chemistry and Life Sciences.
The laboratories are well designed and a lot of thought has gone into making the labs safe for student use. Many meaningful group projects in these subjects are assigned to students with open-ended guidance from the teachers. These activities act as an extended classroom and a link between the classroom learning and follow up activities. Students are encouraged to conduct internal and external science symposia as well as science fairs. Talented students are trained and encouraged to participate in Mathematics and Science Olympiads.